Hatrack River - The Official Web Site of Orson Scott Card
Print | Back
---
Charles Benjamin Card
---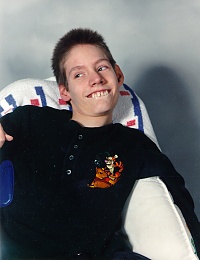 On 16 August 2000, Charles Benjamin Card passed away while with his family on a vacation in Myrtle Beach, South Carolina. A funeral service was held on Saturday, 19 August, in Greensboro, North Carolina, and a graveside service on Monday, 21 August, at the American Fork Cemetery in American Fork, Utah, where Charlie Ben's grave lies next to that of his little sister, Erin Louisa. The Cards are grateful for the outpouring of love, sympathy, and shared memories of Charlie Ben's life, and will make every effort to reply individually as soon as possible.
---
Copyright © Hatrack River Enterprises Inc. All rights reserved.
Reproduction in whole or in part without permission is prohibited.