Hatrack River - The Official Web Site of Orson Scott Card
Print | Back
---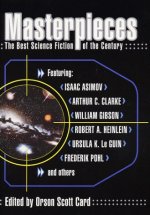 Masterpieces
The Best Science Fiction of the Century
Edited by Orson Scott Card
---

n much of the science fiction of the past, the twenty-first century existed only in the writers' imaginations, Now that it's here, it's time to take a look back at the last one hundred years in science fiction through the works of the most celebrated and acclaimed authors of the century - to see where we've been and just how far we've come.
Along with a critical essay by Orson Scott Card reassessing science fiction in the twentieth century, Masterpieces includes short fiction by dozens of authors, including the legendary Isaac Asimov, the visionary William Gibson, the thought-provoking Ursula K. Le Guin, the masterful Robert A. Heinlein, and their renowned peers - writers who have forged a permanent place for science fiction in the popular culture of today... and tomorrow.
Masterpieces is a glimpse of the greatest works that mixed science with fiction in trying to figure out humanity's place in the universe. Featuring bold, brave, and breathtaking stories, this definitive collection will stand the test of time in both this century and those to come.
---
Copyright © Hatrack River Enterprises Inc. All rights reserved.
Reproduction in whole or in part without permission is prohibited.