Hatrack River - The Official Web Site of Orson Scott Card
Print | Back
---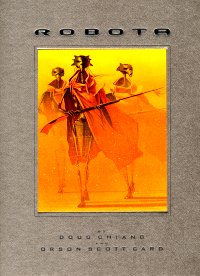 Robota
---

cademy Award-winning artist Doug Chiang and best-selling science fiction author Orson Scott Card join forces in Robota - an extraordinary illustrated adventure.

Robota follows the fortunes of our hero Caps, as he navigates an ancient, decaying world in which a dwindling human population battles a society of merciless robot warriors. Aided by sentient animals and stalked by terrifying hunter robots, Caps fights to unravel his past and to create a future for himself and his planet, slowly rising to fulfill an awesome destiny.

A riveting tale of love, betrayal, and revenge, Chiang's vividly imagined story and meticulously rendered paintings, in conjunction with Card's masterful prose, bring to life an electric alter-universe and a battle nothing short of epic.
---
Praise for Robota

"Doug Chiang's incredible artistry was the inspiration for many of the visuals in Star Wars Episodes I and II, but I knew that he was passionate about completing his own project, which sprung from a single sketch he made as a boy. Now, after years of work, that one doodle has become the magnificent, otherworldly Robota. Doug's vast talents and imagination have resulted in a terrific book."

-- George Lucas

"Just like many of my favorite films, Robota transported me to places I could never go to in real life. Doug has created a rich and wondrous world filled with great characters."

-- Robert Zemeckis

"Having had the pleasure of working with both Doug Chiang and Orson Scott Card on different projects, I can certainly vouch for them as visionaries in their respective media. It's inevitable that they should find each other and dance this astounding duet. Robota is a work of stunning beauty. As we march inevitably toward a fusion with our own machines, Robota provides a parable of a future in which consciousness, and even love, conquer form and substance. Bravo, and may the sage continue."

-- James Cameron

"Robota is beautiful. While reading I would find myself dreaming about seeing all this up on the big screen."

-- Ralph McQuarrie

Copyright © 2003 Doug Chiang

Published by Chronicle Books - San Francisco
---
Copyright © Hatrack River Enterprises Inc. All rights reserved.
Reproduction in whole or in part without permission is prohibited.