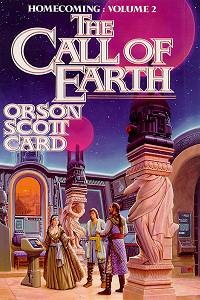 The Call of Earth
---

he Call of Earth continues the story of Nafai, his family, and the few other people selected by the Oversoul to leave the city of Basilica, and their former lives.
When the human refugees from a ruined Earth founded a colony on the planet Harmony, they determined that this world would not be devastated by the endless cycle of vicious warfare that had characterized human life from the beginning.
They didn't try to change human nature. Instead they installed a powerful computer, called the Oversoul, and gave it the task of governing human affairs by subtly influencing human minds. That was millions of years ago. Now the Oversoul is growing weak, breaking down. It must be returned to Earth, to the master computer called the Keeper of Earth, to be repaired. The Oversoul must have human help to make that journey.
But as the Oversoul grows weaker, a great warrior has arisen, stronger, smarter perhaps, than Nafai and his allies. His name is Moozh, and he is deliberately flouting the will of the Oversoul. He has won control of an army using forbidden technology. Now he is aiming his soldiers straight at Basilica, that strong fortress above the Plains.
Who will stop him? Basilica remains in turmoil. Wetchik and his sons, Nafai and Issib, Elemak and Mebbekew, are not strong enough to resist alone. Can Rasa and her allies defeat him through intrigue, or will Moozh take the city and all who are in it?
And meanwhile, in their dreams, the most sensitive people of the planet Harmony hear the call of the Keeper of Earth.
---
"As usual when Card embarks on a grand saga, he also keeps the focus on a single protagonist .... [Card] has succeeded once again in making absorbing ideas and situations that could have led other authors to disaster"
-- Chicago Sun-Times

Copyright © 1993 Orson Scott Card

A Tor Hardcover - Published by Tom Doherty Associates, Inc.
Jacket art by Keith Parkinson - Jacket design by Carol Russo