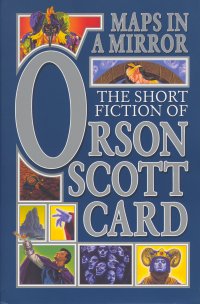 Maps in a Mirror
The Short Fiction of Orson Scott Card
Read Excerpts
---

HE SHORT FICTION OF ORSON SCOTT CARD brings together nearly all of Card's stories, from his first publications in 1977 to work as recent as last year. For those readers who have followed this remarkable talent since the beginning, here are all those amazing stories gathered together in one place, with some extra surprises as well. For the hundreds of thousands who are newly come to Card, here is a chance to experience the wonder of a writer so talented, so versatile that he can handle everything from traditional narrative poetry to modern experimental fiction with equal ease and grace. The brilliant story-telling of the Alvin Maker books is no accident; the breathless excitement evoked by ENDER'S GAME is not a once-in-a-lifetime experience.
In this enormous volume are 46 stories, broken into five books: Ten fables and fantasies, fairy tales that sometimes tell us truths about ourselves; eleven tales of dread - and commentary that explains why dread is a much scarier emotion than horror; seven tales of human futures - science fiction from a master of extrapolation and character; six tales of death, hope, and holiness, where Card explores the spiritual side of human nature; and twelve lost songs.
The Lost Songs are a special treat for readers of this hardcover volume, for here are gathered tales which will not see print again. Here are Card's stories written for Mormon children, a pair that were published in small literary magazines, a thoughtful essay on the writing of fiction, and three major works which have, since their original publication, been superseded by novel-, or more than novel-length works. First, there is the original novella-length version of Card's Hugo and Nebula Award,winning novel, ENDER'S GAME. Then there is "Mikal's Songbird", which was the seed of the novel SONGMASTER; "Mikal's Songbird" will never be published again. And finally, the narrative poem "Prentice Alvin and the No Good Plow" - here is the original inspiration for the Alvin Maker series, an idea so powerful that it could not be contained in a single story, or a hundred lines of verse, but is growing to become the most original American fantasy ever written.
MAPS IN A MIRROR is not just a collection of stories, however complete. This comprehensive collection also contains nearly a whole book's worth of original material. Each section begins and ends with long, intensely personal introductions and afterwards; here the author reveals some of his reasons and motivations for writing what he writes-and a good deal of autobiography into the bargain.
Copyright © 1990 Orson Scott Card
A Tor Hardcover - Published by Tom Doherty Associates, Inc.
Jacket Design by Neuwirth & Associates based on series design by Carol Russo